Save Fuel and Increase Profits
The first-ever fabric wheel cover proven to cut fuel consumption of class 8 trucks by as much as 1%.  With Deflecktor wheel covers installed on trailers, the combination saves up to 2%



How Deflecktor Can Save
Fuel represents 70% of the life cycle cost of a heavy truck. It is the single greatest expense of long-haul trucking.
Typical annual mileage for over-the-road trucks in the US is 120,000 miles.
The annual savings per rig with DEFLECKTOR Wheel Covers installed equals:
1% with 4 wheel covers on a tractor.
2% with 8 wheel covers on a tractor and trailer.
Fuel is the single greatest expense in the life cycle of a heavy truck.
Simplest and Quickest Aerodynamic ROI
A low cost aero component made easy to install and extremely durable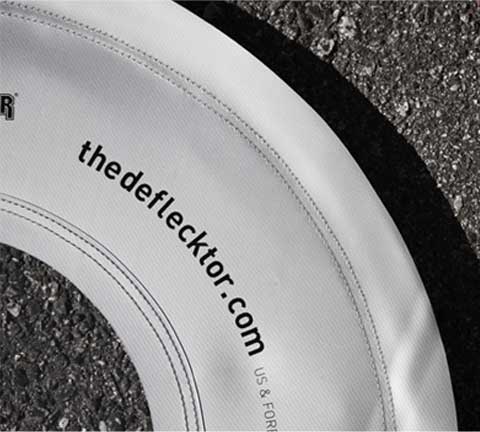 The Deflecktor is
The simplest design known to streamline this complex area of aerodynamic inefficiency found on virtually all over-the-road trucks and trailers.
Designed for Alcoa and Accuride 22.5" x 8.25" Aluminium and Steel wheels on Class 8 vehicles and trailers. Also available for 22.5" x 14" aluminum wide-base wheels.
The only wheel cover that involves no hand tools for installation.
Takes less than 4 minutes to install all 4 wheel covers.
Secure patented mounting.
Made of fabric that weighs just less than two pounds (850 grams).
Made of durable heavy-duty truck tarp and stainless steel wire.
One Year Warranty on all materials and workmanship.
Build brand equity with environmentally-aware consumers of today.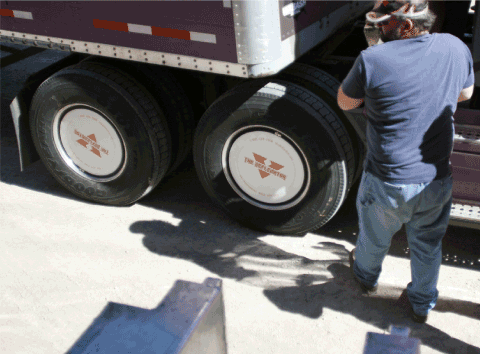 ❝ Innovations for the low-carbon age that reduce emissions and give business a competitive advantage. Standardized wheel size, simplicity of the DEFLECKTOR and the enormous size of the trucking market offer immediate and significant fuel savings, impacting both air quality and resource conservation.❞
—Hannah Bullock, Managing Director of Green Futures
Deflector Installation
It's Easy!
Install 4 wheel covers in less than 4 minutes, involves no hand tools! Watch installation video.
For widebase super single installation please click here!
Step 1
Before you begin, make sure the wheel is clean.

Step 2
Peel off the wheel cover from the double-ring wheel liner and set aside.

Step 3
Wet surface with water.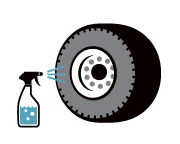 Step 4
Place the wheel liner into the wheel. Center the valve stem in the metal V-notch.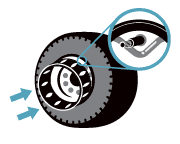 Step 5
Grasp tabs labeled #1 with each hand and push inward firmly.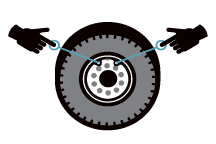 Step 6
Continue in sequence with tabs labeled #2 through #4 to seat both rings securely.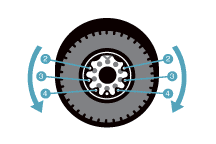 Step 7
Re-attach the wheel cover to the wheel liner.

Step 8
Hit the road and start saving!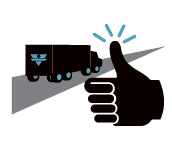 Constant Fuel Saving Result
Schneider National* outfits fleet of over 12,000 tractors with Deflecktor Aero Wheel Covers

❝ We spent over two years testing the DEFLECKTOR. Fuel saving results were consistently positive, and drivers give the DEFLECKTOR extremely good reviews, citing them as easy to install and remove and extremely durable, even through the toughest weather conditions. We expect the wheel covers will pay for themselves in six to 12 months. And they appear durable enough to last up to five years.❞
—Steve Duley, Vice President of purchasing at Schneider National quoted 4/11/10 in the Milwaukee Journal Sentinal
To read the full article, visit http://deflecktor.com/news/detail/THIS-INVENTOR-RARELY-SPINS-HIS-WHEELS.cfm
Rigorous Testing
One of the largest truck businesses in the US, Schneider National* moved methodically toward embracing the Deflecktor Wheel Covers by running rigorous comparison tests, then installing the covers on a limited number of working trucks.
In 2007 and 2008 Schneider National installed Deflecktor Wheel Covers to the drive axels of 6x4 tractors to test drag reduction of their Class 8 vehicles. Schneider is the only fleet in the world known to conduct in-house, fuel efficiency tests under rigorous SAE J1321 (Society of Automotive Engineers) protocols.
Result
At their average fleet speed, Schneider is slated to realize annual fuel savings of 1.8 million gallons of fuel as a result of installing the DEFLECKTOR on its fleet of over 12,000 tractors.
Bottom Line
With diesel fuel averaging $4 per gallon in 2011, Schneider National, an industry leader in energy conservation, is expected to add about $6.5 million to its annual bottom line by pioneering the DEFLECKTOR Aero Wheel cover.*
* Schneider conducts business in 28 countries worldwide and serves more than two-thirds of FORTUNE 500 companies and was named 2010 Green Fleet of the Year by Fleet Owner Magazine. To read the full article, Click Here!