Description
Save Fuel and Increase Profits
The first-ever fabric wheel cover proven to cut fuel consumption of class 8 trucks by as much as 1%.  With Deflecktor wheel covers installed on trailers, the combination saves up to 2%



Simplest and Quickest Aerodynamic ROI
A low cost aero component made easy to install and extremely durable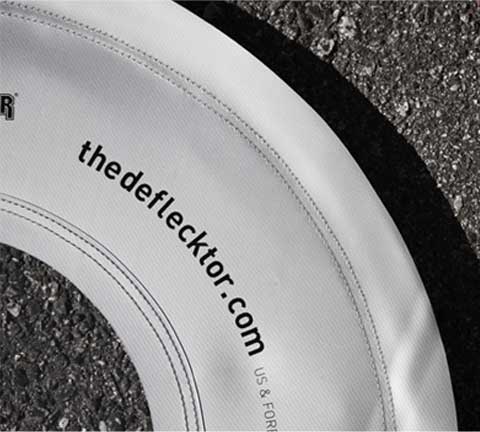 The Deflecktor is
The simplest design known to streamline this complex area of aerodynamic inefficiency found on virtually all over-the-road trucks and trailers.
Designed for Alcoa and Accuride 22.5" x 8.25" Aluminium and Steel wheels on Class 8 vehicles and trailers. Also available for 22.5" x 14" aluminum wide-base wheels.
The only wheel cover that involves no hand tools for installation.
Takes less than 4 minutes to install all 4 wheel covers.
Secure patented mounting.
Made of fabric that weighs just less than two pounds (850 grams).
Made of durable heavy-duty truck tarp and stainless steel wire.
One Year Warranty on all materials and workmanship.
Install 4 wheel covers in less than 4 minutes, involves no hand tools! Watch installation video.
Softspot Deflecktor Install
Step 1
Before you begin, make sure the wheel is clean.

Step 2
Peel off the wheel cover from the double-ring wheel liner and set aside.

Step 3
Wet surface with water.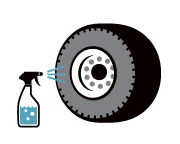 Step 4
Place the wheel liner into the wheel. Center the valve stem in the metal V-notch.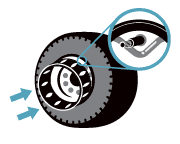 Step 5
Grasp tabs labeled #1 with each hand and push inward firmly.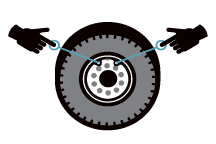 Step 6
Continue in sequence with tabs labeled #2 through #4 to seat both rings securely.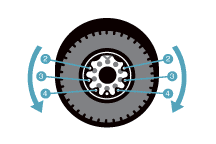 Step 7
Re-attach the wheel cover to the wheel liner.

Step 8
Hit the road and start saving!